Winnipeg to offer free lifeguard training this summer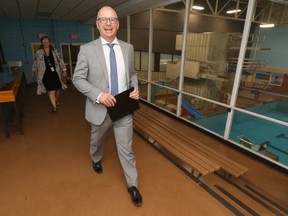 Article content
Winnipeg is offering free training and certification to become a lifeguard this summer.
Article content
We apologize, but this video has failed to load.
Winnipeg to offer free lifeguard training this summer
Back to video
There is a national shortage of both part-time and full-time lifeguards, and the city is once again offering free training to address the need.
Article content
In 2022, the city offered free training for 58 instructor guards and six aquatic instructors.
The 16-week program begins in August and will provide up to 40 successful applications to receive the six courses required to apply as an instructor guard with the city. Course materials will be included for free and will also provide an opportunity for those who have partial completion of the six required courses.
"By investing in lifeguard training, more children will have the opportunity to learn essential water safety skills," said Mayor Scott Gillingham in a Tuesday news release.
Article content
"Making the program free will help address the shortage of lifeguards and fill vacant positions within our city so that fewer parents are put on a wait list to get swimming lessons for their kids."
Coun. John Orlikow, who chairs the city's community services committee said that the COVID-19 pandemic and the lack of certification courses resulted in a shortage of lifeguards.
"By reducing barriers, and with the support of our amazing staff, there will be adequate lifeguards to ensure more swimming lessons are available and pools are open," Orlikow said.
Applicants must be at least 16 years old at the time of applying with a minimum of Grade 10 education. Applicants will also need to get a police information check (vulnerable sector) by the end of the year as well as complete a Red Cross Level 8 or Society Swimmer 6 swim ability. Anyone who applies will agree to work for the city for a minimum of one year after completing the training, a formal interview and new hire training, which is 40 hours unpaid. New hires would be required to work three shifts or nine hours per week, which is the minimum work requirement with the city.
Those interested in applying can visit winnipeg.ca/instructorguard. The deadline to apply is Sunday, July 16.