Winnipeg man facing charges following extensive sextortion investigation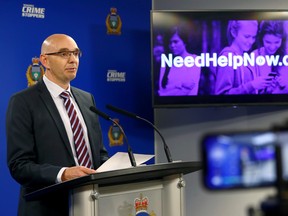 Article content
A Winnipeg man is facing 10 charges related to "sextortion" with victims spanning four provinces.
Article content
We apologize, but this video has failed to load.
Winnipeg man facing charges following extensive sextortion investigation
Back to video
Police say a man in his 20s reported being the victim of extortion in January after sharing intimate images of himself with a person claiming to be a young woman. A suspect then threatened to share the images online unless he sent money.
Article content
The victim e-transferred money, which police say was transferred overseas, and did not hear from the suspect again.
In February, the Winnipeg Police Service's financial crimes unit identified three more victims and charged a 21-year-old Winnipeg man with four counts of extortion. Further investigation linked the accused to victims in Alberta, Ontario and Prince Edward Island. The accused was released on an undertaking. All targets were men, ranging from teens to young adults.
Article content
The investigation is ongoing and police believe there may have been more victims of "very sophisticated organized criminal networks operating outside Canadian borders targeting our youth," Sgt. Trevor Thompson said Wednesday at a press conference at Winnipeg headquarters.
Stephen Sauer, the director of Cybertip.ca, a tipline for reporting online sexual abuse and exploitation of children run by the Canadian Centre for Child Protection, said they've received more than 3,400 sextortion reports in the last year, and a near 50% increase in victims seeking help.
"This is an underreported crime," he said. "Most individuals are trying to deal with this on their own. So the true scale of the problem is much greater than what these numbers suggest."
Article content
Sauer said the effect can be devastating for victims, noting the case of a 17-year-old boy from rural Manitoba who killed himself hours after being targeted.
"I think there's a huge emotional impact. Often kids coming in to us talk about how they see their life as being ruined. I think there is such shame associated with the distribution of that type of material that it's really difficult to get over that in the moment for them," he said.
Sauer said their data suggests 80% of the cases involve Instagram and/or Snapchat and said they would like to see legislation providing "regulatory guardrails" to protect the most vulnerable on social media platforms.
Police say if someone threatens to share your intimate images online, you should screenshot the communications, block or deactivate the account, do not pay money or send more images and make a report to police and Cybertip.ca.
If the image or images have already been shared, NeedHelpNow.ca can help remove the image(s) and provide emotional support.
kking@postmedia.com