Winnipeg gives 19 community centres funding boost for renovations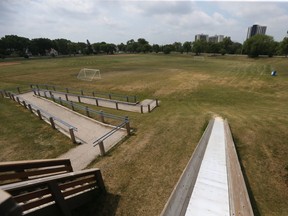 Article content
Nineteen city-owned community centres across Winnipeg got a funding boost to do some renovations, the mayor announced Wednesday.
Article content
We apologize, but this video has failed to load.
Winnipeg gives 19 community centres funding boost for renovations
Back to video
The grants total just over $1.2 million and are through the city's community centre renovation grant program, which Mayor Scott Gillingham called in a news release a "crucial investment."
Article content
"Ensuring they have the necessary resources to undertake repairs, upgrades, and safety improvements that enhance the overall experience for visitors," Gillingham said, adding a thank-you to the board members and staff of the city's community centres.
The program has two intake periods per year, one in March and October. Since 2012, the city has spent $15.7 million on community centre renovations across Winnipeg.
"Community centres are the hub of our communities," said Coun. John Orlikow, who chairs the community services committee.
Article content

"They provide local programs that allow families to participate in sports and activities, and link neighbours together through shared experiences. These funds recognize this and provide support to the amazing volunteers that run our community centres."
The program allows community centres to acces funding to repair facilities, upgrade, retrofit, improve safety and do some renovations.
The community centres that got funding to complete renovations are as follows:
Bord-Aire
Champlain
Deer Lodge
East Elmwood
Gateway
Glenwood
Morse Place
North Kildonan
Northwood
Norwood
Park City West
Robert A. Steen
Southdale
Sturgeon Heights
Tyndall Park
Valley Gardens
Vince Leah
Whyte Ridge
Wildwood