'Money' Medlock joins Blue Bombers Hall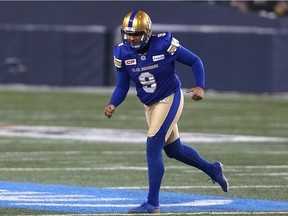 Article content
Kicker Justin Medlock is the newest member of the Winnipeg Blue Bombers Hall of Fame.
Article content
We apologize, but this video has failed to load.
'Money' Medlock joins Blue Bombers Hall
Back to video
A member of the drought-busting, 2019 Grey Cup championship team, Medlock is the only inductee this year. He'll be honoured at the team's gala dinner and at a home game in October.
Article content
The last four of Medlock's nine CFL seasons were in Winnipeg, from 2016-19, and he went out in style, cementing his legacy as one of the best kickers in league history.
His 85.5% field goal success rate with the Bombers is the best in franchise history.
Nicknamed "Money," the California product capped his career with a six-for-seven performance in the 2019 Grey Cup, scoring 19 of Winnipeg's points in a 33-12 win over Hamilton.
Medlock set a CFL record with 60 field goals in 2016, booted 56 the following season — the fourth-most in league history — and tied team records for the most field goals in a game, with seven, and longest field goal, at 58 yards.
He won the league's Most Outstanding Special Teams Player Award his first year in Winnipeg, and retired as the No. 4 point producer in Bombers history, with 802.
His 1,535 career points rank 15th in the CFL.
As a punter, Medlock posted an average of 43.8 yards, ranked among the top ten Winnipeg kickers, all-time.
Check out our sports section for the latest news and analysis. Care for a wager? Head to our sports betting section for news and odds.