Lamborghini Urus goes hybrid-only in 2024, full electric 2029
It's confirmed! The hybrid SUV will run off a 4.0L twin-turbo V8—working in tandem with an electric motor, of course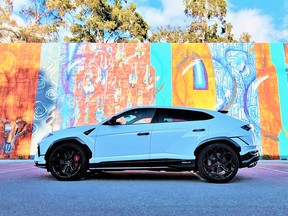 Article content
We apologize, but this video has failed to load.
Lamborghini Urus goes hybrid-only in 2024, full electric 2029
Back to video
This iteration will remain in the lineup until some point in 2029, when a fully electric Urus replaces it. The company plans to also release a high-riding electric 2+2 grand tourer (GT) in 2028. Take from this what you will, but Winklemann says of the upcoming GT: "It will be about sustainability, have better visibility, and have the design of a very sexy car, but still [be] immediately recognisable as a Lamborghini."
Article content
It will also feature "high-performance batteries that nobody else has, and will be unique in the market." Top-secret batteries, eh? Hmmm.
Recommended from Editorial
Why 2028 for that GT? Between now and then, the company is focused on various trim levels of the Revuelto; the replacement for the Huracán; and the aforementioned hybrid Urus, which makes sense, as it's a small company with limited resources. Plus, it'll be busy rejigging its Sant'Agata factory to build two EVs on the same production line.
Article content
And speaking of, what is replacing the Huracán next year? All Winkelmann would say is that it'll bear a new name; and use a plug-in hybrid powertrain based off the Urus hybrid's.

The future of gasoline-driven vehicles at the brand is bleak. "I strongly believe that after 2035, legislation will be so high for ICEs that it will be almost impossible for the ones with high displacement like ours to be compliant," said Winkelmann in the interview.
"You see this now with EU7, but also developments of EU6. It is very costly and getting impossible to achieve. To develop ICE is incredibly costly. Even if it [legislation] is not banning EVs, taxation will be a killing factor. Then mega-cities are talking of abolishing non-EVs before 2035 regardless."
For now, though, Lamborghini will keep working on hybridized machinery, as plans for a totally electric supercar aren't on the radar—yet. In such a pivotal and influential time in the automotive world, one not seen since the invention of the automobile, almost anything can happen, after all.