Jets trade Pierre-Luc Dubois to Kings for three-player haul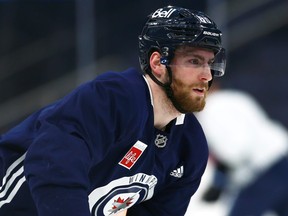 Article content
The Pierre-Luc Dubois saga has found a conclusion.
Article content
We apologize, but this video has failed to load.
Jets trade Pierre-Luc Dubois to Kings for three-player haul
Back to video
The Winnipeg Jets have shipped Dubois off to the Los Angeles Kings for restricted free agent forwards Gabe Vilardi and Rasmus Kupari, along with veteran forward Alex Iafallo and a 2024 second-round draft pick (originally Montreal's) in a multi-piece deal between the two Western Conference clubs.
Article content
As part of the deal, Dubois was first signed to a fresh, eight-year contract — the maximum length — with the Jets worth $68 million, or $8.5 million per year.
"This trade has given us a lot of different depth," general manager Kevin Cheveldayoff told the team's website. "Each of the players brings something unique and specific that is going to give us much more, much greater variety for the coaches to be able to use and make different concepts with."
Article content
Vilardi will become a restricted free agent on July 1 and has arbitration rights. Meanwhile, Iafallo has two years remaining on a four-year, $16-million contract ($4 million AAV).
Vilardi, the centrepiece of the trade, is a 23-year-old right-winger that has spent time at centre in Los Angeles.
Drafted by the Kings 11th overall in the first round in 2017, the Kingston, Ont., native has played 153 games in the NHL, scoring 41 times while adding 37 helpers.
Vilardi, 6-foot-3, 215 pounds, is coming off a breakout campaign where he scored a career-high 23 goals and registered a career-best 41 points in 63 games — missing a month due to injury, plus more time sprinkled elsewhere throughout the season.
There are questions about his ability to stay healthy, having missed time in previous seasons, including his time in the Ontario Hockey League, where he suffered back problems.
Article content
"He's a real interesting situation," Cheveldayoff said of Vilardi. "Obviously, he had some injuries early on in his career and when you go through the development process as a young player, when they miss some formative years, it takes some time for them to catch up.
"What you're seeing and what we're hoping is seeing Gabe come out of those formative years and overcoming those injuries and now taking that next step to be that type of player he was drafted as," Cheveldayoff said.
When healthy, Vilardi is an effective forward who put up solid puck possession (53.7%) and expected goals (57.6%) numbers last year.
His upside would be as Blake Wheeler's replacement, with the former captain likely to be bought out if he can't be traded before the buy-out deadline on Friday.
Article content
Vilardi could also slide to centre, depending on how the rest of the summer pans out for Cheveldayoff.
Iafallo is a six-year NHL veteran with 420 games under his belt, all with the Kings.
The 6-foot, 200-pound left wing has 82 goals and 204 points in that time after signing with the Kings undrafted out of the University of Minnesota-Duluth in 2017.
Iafallo has been a strong possession player throughout his career, even on some lean Kings teams.
"He's a player that will bring a lot of experience to our room," Cheveldayoff said. "He's a good two-way player, plays with a lot of energy. That leadership that he's going to bring… is going to be a real good mix in our dressing room."
He'll find some familiarity with the Jets: he was teammates with Neal Pionk and Dominic Toninato (currently with the Manitoba Moose) at Duluth.
Article content
Iafallo could round out Winnipeg's third line, with Adam Lowry down the middle and Mason Appleton opposite — although this is a tough one to project until it becomes clear who Winnipeg's centres will be in 2023-24.
Kupari is a 6-foot-2 Finnish centre who went 20th overall in the 2018 NHL Draft but has yet to pop offensively in the NHL. In 130 games, he has nine goals and 20 assists.
Kupari, who is responsible defensively, seems like a reclamation project in Winnipeg. A change of scenery may do him some good. He plays hard with the size he possesses.
Cheveldayoff said they're banking on growth with Kupari with greater opportunities in Winnipeg.
"Big guy, lots of speed," Cheveldayoff said. "He's someone that's just a young player finding his way right now. Where we are at within our organization right now, we're looking to continue to grow and build upon the great pieces that we have."
Article content
Kupari does not have arbitration rights this summer.
Speculation over
Dubois' departure ends months of speculation about his future in Winnipeg — where it had become crystal clear that he wouldn't re-sign in the city — and put to bed the notion that the 25-year-old would only sign long-term with the Montreal Canadiens, his home-province team.
The Jets acquired Dubois from Columbus in late January 2021, when he was packaged with a 2022 third-rounder (used to select Danil Zhilkin last summer) for Patrik Laine and Jack Roslovic.
In his three seasons with the Jets, Dubois played 195 games, scoring 63 times and adding 80 assists.
The pivot recorded a career-high 63 points this past season and set a career mark for goals with 28 during the 2021-22 campaign.
Article content
Shipping Dubois to Los Angeles figures to be the first step in what's expected to be a franchise-altering summer for the Jets.
The Jets are actively looking to trade all-world goalie Connor Hellebuyck, as reports indicate he's unlikely to re-sign when he becomes a UFA in 2024.
Similarly, it appears to be heading in the same direction for Mark Scheifele, once the cornerstone of the franchise.
On top of that, the Jets are poised to select 18th overall in the first round of the NHL Draft on Wednesday night.
Free agency opens on Saturday.
sbilleck@postmedia.com
Twitter: @scottbilleck
Check out our sports section for the latest news and analysis. Care for a wager? Head to our sports betting section for news and odds.