Jets select winger Colby Barlow with 18th overall pick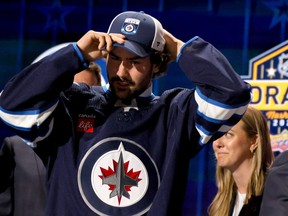 Article content
For the Winnipeg Jets at the NHL Draft, character often stands shoulder-to-shoulder with talent.
Article content
We apologize, but this video has failed to load.
Jets select winger Colby Barlow with 18th overall pick
Back to video
It just so happens they selected both with the 18th overall pick on Wednesday in Nashville.
Article content
GM Kevin Cheveldayoff called the name of 18-year-old forward Colby Barlow out of the Owen Sound Attack in the Ontario Hockey League, welcoming him as the newest member of the Jets organization.
"It's crazy," Barlow told reporters in Nashville shorter after pulling on a Winnipeg sweater and straightening a Jets ballcap. "Surreal feeling, for sure.
"It's super special to play for a Canadian team. As a Canadian boy, you grow up watching Saturday night games. It's just surreal to be a part of the Winnipeg Jets."
A surreal day, too.
"It's definitely nerve-wracking," he said. "It's your dream coming true so there's excitement, there's nerves, you're all over the place in your mind. You never know where you're going to play until your name gets called. It's just a special day."
Article content
Barlow said the wait wasn't as bad, saying he was happy to watch deserving players hear their names called.
When his name came, the first hug went to mom.
"She was right beside me," Barlow said. "That was a nice long hug for sure."
The 6-foot-1, 195-pound left winger was named the youngest-ever captain of the Attack this past season as a 17-year-old, going on to score 46 goals and 79 points in 59 games.
Being named captain that young was just another show of faith that Owen Sound has offered Barlow since taking him eighth overall in the first round of the OHL Draft in 2021.
"They gave me a chance at such a young age," he said. "Stepping in as a rookie, they gave me a lot of opportunity which I was super grateful for. I wouldn't be the player I am without those opportunities and the people that have helped me in that organization."
Article content
He's repaid the favour over the past two seasons, scoring at a tremendous rate with 76 goals in 118 games, including 30 in his rookie year two seasons ago.
"I thought I had it in me," Barlow said of his goal tally from the 2022-23 season. "I've been working on my game so much and just trying to better myself as a player. I think my game really took a step forward this year."

Barlow, who wears No. 39 with the Attack, possesses NHL size out of the box, owns an elite shot and can play in all situations, including as a solid penalty killer.
Depending on what draft rankings you looked at, he was as high as a top-10 pick, including being ranked 10th by TSN's Craig Button and 12th by Bob McKenzie.
NHL Central Scouting had him at 12th among North American Skaters, with his consolidated ranking also placing him 12th.
Article content
Whatever the case, the Orillia, Ont., native is projected as a solid top-six scorer.
Known as a hard-nosed player, there isn't an area on the ice he's not willing to go for.
His offensive instincts are up there with the best in the draft class, with a great ability to anticipate the play developing around him and make quick decisions to create a scoring chance, either off his own stick or one of his teammates.
"I'm just a 200-foot, power forward with goal-scoring ability," Barlow said. "I play hard, competitive, drive the net, play with some passion.

His first year in the OHL taught him that playing a complete two-way game is paramount for playing time and success.
"If you can't be trusted in your own end you're not going to see the ice," Barlow said. "It was just there, where you get your first taste of you got to be a complete hockey player and not just think about offence all the time."
Article content
He's modelling himself and watching the right guys, too.
Barlow said he pays attention to Toronto Maple Leafs stars Auston Matthews and John Tavares along with Vancouver's JT Miller, among others.
"Those are just a few guys I watch and try to take things from," he said.
A high-IQ player on the ice, Barlow was named the CHL's Scholastic Player of the Year in 2023, joining several Jets draft picks to have won the award, including Josh Morrissey, Adam Lowry, Cole Perfetti and Nelson Nogier.
Barlow said he doesn't know anyone personally on the Jets other than goalie Domenic DiVincentiis, who the Jets took in the seventh round last year in Montreal.
Earlier in the first round, the Chicago Blackhawks took wunderkind, Connor Bedard, with the first-overall pick, shocking no one.
Sweden's Leo Carlsson went second to Anaheim and Canada's Adam Fantilli rounded out the top three, heading to Columbus.
The Jets won't pick again, barring a trade, until the third round on Friday. They also own two picks in the fifth round and a final one in the seventh.
sbilleck@postmedia.com
Twitter: @scottbilleck
Check out our sports section for the latest news and analysis. Care for a wager? Head to our sports betting section for news and odds.