Jets added depth, dimension and opened opportunity in Dubois trade: Cheveldayoff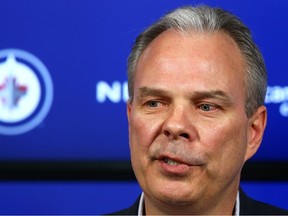 Article content
Depth and dimension were the words used by Winnipeg Jets general manager Kevin Cheveldayoff to categorize what was added to his roster on Tuesday when they shipped Pierre-Luc Dubois off to Los Angeles.
Article content
We apologize, but this video has failed to load.
Jets added depth, dimension and opened opportunity in Dubois trade: Cheveldayoff
Back to video
The Kings sent back three players, all forward, including Gabriel Vilardi, Alex Iafallo and Rasmus Kupari, along with a 2024 second-round draft pick to acquire the 25-year-old Dubois.
Article content
"I managed to have a conversation with all of them today and told them it was an important step for our organization," Cheveldayoff told reporters prior to the NHL Draft in Nashville on Wednesday afternoon.
Cheveldayoff, who is entering his 13th term with the Jets, sang a tune of growth and opportunity, especially with Vilardi and Kupari.
At 23, Vilardi missed significant time with a back injury during his development years but is coming off a break-out season with the Kings.
Kupari, meanwhile, is someone Cheveldayoff said they had high on their draft boards in 2018 but didn't own a first-round pick that year. Kupari, a Finn, went 20th overall to the Kings that summer.
Article content
"We all know how development takes different shapes and forms and curves, and in his particular situation when you lose those kinds of years it takes some time to grow your game," Cheveldayoff said.
Iafallo, the senior of the bunch with 420 NHL games under his belt, provides the Jets with a veteran two-way player that is complimented by his character off the ice, as a person and as a teammate.
"We're really excited to have that," Cheveldayoff said.
What's next?
Cheveldayoff spoke with Connor Hellebuyck earlier this week at the NHL Awards and said he has been in contact with Mark Scheifele's agent over the past couple of days.
No deal appears imminent, and Cheveldayoff towed the diplomatic line with both on Wednesday.
Article content
"Helly and Scheif are big parts of our franchise," Cheveldayoff said. "At this time of the year, I know it's an uncomfortable thing where there's lots of different conversations that do go on. But, for us, right now, our focus is they're Winnipeg Jets and we're looking forward to moving forward with them."
The Jets are taking calls on both, with both reportedly having submitted trade requests. Scheifele and Hellebuyck are set to become unrestricted free agents next summer.
"We'll look at everything that comes to us, but that doesn't necessarily mean we're jumping at anything," Cheveldayoff said. "I talked to (Scheifele's) representatives… and told them, 'Look we're listening, but obviously it's got to make sense for the Jets because these are good players and these players can help us win.'"
Article content
Cheveldayoff was more forthcoming with former captain Blake Wheeler's status, saying that they're looking at all of their available options, including buying Wheeler out before Friday's deadline.
"But sometimes you can get creative in this game," Cheveldayoff said, referencing the possibility of trading Wheeler before then.
Few people around the league feel that's a possibility, given Wheeler's hefty cap hit that sits north of $8 million.
Even if the Jets were to retain half of that, it's a pretty penny for teams that Wheeler might be willing to waive his five-team modified no-trade clause for.
Buying him out still seems like the safe bet, with the Jets absorbing at $2.75 million cap hit over the next two seasons to make it happen.
Article content
A shift in philosophy?
Perhaps Cheveldayoff has heard the cries of the fan base or simply looked around the league to see young player after young player prosper through the opportunities granted to them.
Now, it sounds like Cole Perfetti will get a shot to thrive in the centre position after being drafted as one out of the Ontario Hockey League in 2020.
"When we look at the evolution of franchises, look at the development of franchises, everyone can say play the young players but they have to have the opportunities in front of them," Cheveldayoff said. "Those are things where sometimes you have to move players, sometimes you have to do things in order to offer those opportunities. Now, it will be up to a play like Cole to take them."
Article content
Opportunity, or lack thereof, has gotten in the way in Winnipeg before.
When Jacob Trouba first tendered his trade request back in 2016, the statement from his agent suggested that the defenceman wanted to realize his full potential on the right side of the blue-line.
Patrik Laine desired a bigger role on a team that didn't seem to afford it to him at the time. He's now in Columbus.
The acquisition of Vilardi and Kupari shows a willingness to not only get younger but also provide a setting where those young players can grow in NHL roles.
Time will tell how that plays out on the team's blue-line.
Cheveldayoff said he could potentially see a trade on the back end but, as he noted with potential trades for Scheifele and Hellebuyck, the fit needs to be there on both sides.
sbilleck@postmedia.com
Twitter: @scottbilleck
Check out our sports section for the latest news and analysis. Care for a wager? Head to our sports betting section for news and odds.