J.D. Power finds Canadians lukewarm to EV adoption
Study says just one-third of new-car consumers are likely to consider an electric vehicle in the next two years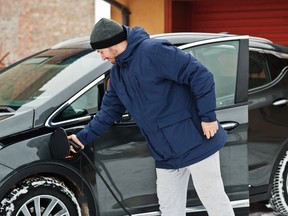 Article content
It's no secret there are plenty of folks in the Great White North who range somewhere between mildly disinterested to outright apathetic about buying an electric vehicle. Their reasons are as vast as they are valid, extending from the sorry state of public charging infrastructure; to concerns about costs (both upfront and long-term). A new study by the eggheads at J.D. Power Canada has put an exclamation point on just how much of a hill EV makers have ahead of them in this country.
Article content
We apologize, but this video has failed to load.
J.D. Power finds Canadians lukewarm to EV adoption
Back to video
According to the Canada Electric Vehicle Consideration (EVC) Study study, overall EV consideration stands at 34 per cent, with the balance of survey respondents being very or somewhat unlikely to consider an EV as their next vehicle purchase. Basic math teaches us that's a wide swath of people who aren't too keen on handing their daily driving to a vehicle powered solely by electrons. Interestingly, once one drills down into the data, 43 per cent of folks who sampled an EV either through the likes of a rental or test drive said they were very or somewhat likely consider one as their next purchase. That's still less than half.
Article content
Major concerns voiced by survey respondents who indicated they are not interested in pulling the trigger on an electric vehicle read like a who's who of EV roadblocks: range anxiety (63%); sticker price (59%); and lack of charging stations (55%).
Article content
Regionally, numbers in favour of EV consideration are what one might expect if they've been paying attention. Nearly half of survey respondents who identified as residing in British Columbia said they would consider an EV as their next car, with Quebec (39%) and Ontario (34%) being the next two top regions. One wonders if that latter number would be higher had Doug Ford not gutted Ontario's EV rebate program in favour of waterfront spas for his buddies and free license plate stickers. Atlantic Canada's 26% isn't a shocker, since charging infrastructure is in its infancy there; and the Prairie province's 22% should surprise no one who's been paying attention to politics.
Recommended from Editorial
Article content
But who was on the survey list? This year's study was held in April and May, conducted via an online community measuring responses from 4,488 consumers. "We utilized our own J.D. Power Canada online panel of Canadian vehicle owners," explained J.D. Ney, Automotive Practice Lead at J.D. Power, in an email conversation with Driving. This is an important point, since it suggests respondents are from a wide pool instead of sourced from an echo chamber with strong views one way or another on EVs.
In another nod to fairness, Ney told us the findings were representative of the country's regional population and age demographics, indicating a good balance from across Canada. In other words, the tables don't seem to have been tilted with an excess of replies stemming from areas in which EVs are either massively popular or widely shunned.
Article content

All this points to a continued uphill battle for those who are pushing EV adoption, not unlike a parent who's trying to get their kid to eat vegetables. The fact that nearly two-thirds of those surveyed who didn't want an EV cited range anxiety as a deterrent shows recent efforts by manufacturers and consumer groups to quash that concern aren't enough. One wonders if apprehension about public charging will shift over the next couple of years as companies coalesce around the NACS (Tesla) style of plug, which should remove some variables and lend a dose of predictability to the charging part of this equation.
Studies like these prove what most of us already know: EVs aren't right for everyone, and probably won't be for some spell. With Canada's unique geography and climate, it'll be more than few years before all hands find the conditions right to eat their spinach.