'It felt like a horror movie:' After getting run over by Lions, Bombers O-linemen try to piece together what went wrong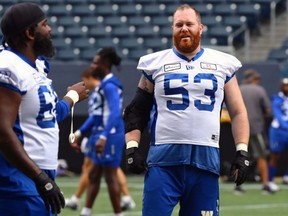 Article content
Jermarcus Hardrick didn't see it coming and he's still trying to figure out why he and his teammates got run over by the B.C. Lions last week.
Article content
We apologize, but this video has failed to load.
'It felt like a horror movie:' After getting run over by Lions, Bombers O-linemen try to piece together what went wrong
Back to video
"It felt like a horror movie while it was happening and I hope it never happens again," the veteran right tackle said Tuesday, a few days after his team allowed seven quarterback sacks in a 30-6 loss to the Lions.
Article content
"We practised hard last week, we didn't take them lightly. It was just a good a-s-s whooping. I wish I knew why it happened."
The Bombers' offensive line is normally a bastion of consistency. With four-time CFL most outstanding offensive lineman Stanley Bryant at left tackle, Hardrick on the right side and veteran all-star Paddy Neufeld at guard, the group doesn't get pushed around very often.
It was just a good a-s-s whooping. I wish I knew why it happened.

Bombers offensive lineman Jermarcus Hardrick
After practice on Tuesday, Hardrick remained dumbfounded.
"I swear we worked hard, worked out, watched the same film … we didn't do anything different but the scoreboard was different," Hardrick said. "There's been a lot of sleepless nights, looking back at everything."
Article content

While vowing to be much better this week when the Bombers take on the Alouettes in Montreal (Saturday), the Bombers offensive linemen talked about it all being a fairly simple solution.
"We just see it as a learnable moment," Neufeld said. "It's nothing catastrophic. We didn't play physical enough. The (Lions) were playing really physical and really fast, getting up the field really well on us.
"They hit us in the mouth and we didn't respond. It was a bit of a wake-up call for us. Hats off to them. They played real well up front and dictated the physicality, which is something we can hopefully correct this week.
"We were very critical of ourselves and tried to hold ourselves accountable as much as possible but now we move on to Montreal. Different defence, but they play really physical as well."
Article content
Getting blown out by the Lions was bad enough, but seeing 34-year-old quarterback and two-time reigning league most outstanding player Zach Collaros get hit seven times was even worse.
Winnipeg's run of good quarterback health, which stretches back to the arrival of Collaros late in the 2019 season, will surely come to an end if he keeps getting pummeled like that.
"Every man on the roster took it personally," Collaros said Tuesday after practice at IG Field.
"We got outplayed, out-physicalled, however you want to put it. But that (offensive line) group has played a lot of football together and they're proud guys about what they've accomplished and what they'll continue to accomplish.
"I don't think anybody's faith in them is wavering, certainly not mine. I love those guys. They set the tone for us offensively and they'll continue to do so."
Article content
Bombers head coach Mike O'Shea certainly sounds confident that last Friday's performance was simply an anomaly.
"They just need to go play … that's it," O'Shea said. "There's no magic to it. They just need to go out and be physical and play. They're a good group and that doesn't change from one game."

In Weeks 1 and 2 of the season, the Bombers O-line graded out as the top unit in the league.
In Week 3, they were surely the league's worst, but now they need to prove that was just a bump in the road and not the start of a trend.
"We just have to have an understanding that once that first whistle blows in Montreal, it's balls-out every play and play as physical as we can and then reload for the next play," Neufeld said. "I think we're a veteran enough unit that we can go out there and understand the situation and what we have to do."
Article content
Recommended from Editorial
It's a bit alarming for Bombers fans that the offensive line got manhandled by B.C.'s defensive front, especially considering they seemed caught off guard by it.
The Lions, who have allowed only 21 points against in three games, are certainly turning heads around the CFL with their defensive play.
But to dominate the Bombers like that on their home turf?
No one expected that and there's no doubt the Bombers are still feeling the effects.
"It's hard not to talk about it," Collaros said. "You vent about some things and make corrections and just talk through it.
"There's definitely a lot that you can find to improve upon when you get embarrassed like that in front of your fans."
Twitter.com/Ted_Wyman
Check out our sports section for the latest news and analysis. Care for a wager? Head to our sports betting section for news and odds.