FRIESEN: From boos to cheers, Medlock earned place in Bombers Hall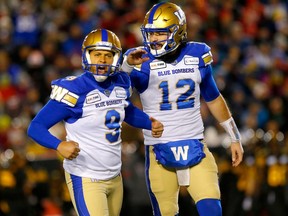 Article content
It wasn't a well-regarded decision at the time. In fact, some people thought Justin Medlock had lost his marbles.
Article content
We apologize, but this video has failed to load.
FRIESEN: From boos to cheers, Medlock earned place in Bombers Hall
Back to video
Coming off another sparkling year with the Hamilton Tiger-Cats back in 2015, Medlock signed as a free agent in Winnipeg, where the perennially bad Blue Bombers were coming off a fourth straight losing season.
Article content
"Nobody wanted to go to Winnipeg when I was going," the former kicker was saying from his California home, Monday. "When I signed… people in Hamilton were like, 'Oh, good luck over there. That place is, ugh.'
"And everybody wants to play in Winnipeg now."
Nobody, not even Medlock, could have predicted what happened over the next four seasons, culminating in the Bombers ending a 28-year Grey Cup drought as the California kicker cemented his legacy as one of the CFL's all-time legs.
Today, Medlock is the newest member of the Blue Bombers Hall of Fame, the lone inductee this year. He'll be honoured at the team's gala dinner and at a home game in October.
Article content
"I was really thankful," he said of the call that brought the news. "It juiced up my day a little bit."
The last four of Medlock's nine CFL seasons were in Winnipeg, from 2016-19, and he went out in style.
Nicknamed "Money" for his ability in the clutch, he capped his career with a six-for-seven performance in the 2019 Grey Cup, scoring 19 of Winnipeg's points in a 33-12 win over Hamilton.
Asked about his most memorable plays, though, Medlock brings up his first and last regular-season kicks as a Bomber, attempts that stand out for starkly different reasons.
"My first kick… I banked it off the post and got booed off the field," he recalled. "We were playing so bad as a team."
Medlock bounced back on his next try with a successful 58-yarder that tied a franchise record, one of a CFL record 60 field goals that season.
Article content
He earned the 2016 Most Outstanding Special Teams Player Award, even as it took his team a while to get going.
Despite signing free agents like Medlock and running back Andrew Harris, the Bombers started that season 1-4.
They'd turn it around, beginning a playoff run that's still going strong.
Many credit a win over powerhouse Calgary in their final regular-season game of 2019 as sparking the momentum that led to their Grey Cup triumph.
That game was capped by his last regular-season kick in blue and gold: the winning points on the last play of a come-from-behind, 29-28 victory.
"That was a big kick," Medlock recalled. "And in that moment I just didn't know how much longer I was going to play. I hadn't had any game-winners there. So that last one against Calgary was a pretty cool one. Game-winners are special for the kickers."
Article content
Medlock says he was actually planning to play one last season in 2020.
That's when the pandemic hit.
"We won the Grey Cup and I thought to myself I had done everything in this football world that I needed to do, other than maybe win the Super Bowl. And I knew I wasn't going to win a Super Bowl. So I was going to play out 2020, and then all of a sudden COVID happened and knocked us out. I knew we weren't getting back into that country.
"So I had to pivot and make something else happen."
When he got an opportunity as a risk adviser in commercial insurance, one that would take him from Florida closer to family back in California, he knew his football career was over.
Even when the Bombers tried to lure him back for the shortened 2021 season and again in 2022.
Article content
"It was bitter-sweet," he said. "You don't want your career to end like that. But then it was a good time for me to make that transition. It's harder to think about, especially when you're doing it. But you've got to make that move sometime."
In four years with Winnipeg, Medlock hit on a franchise-record 85.5% of his field goals, tied a team record for the most in one game, with seven, and finished as the No. 4 point producer in Bombers history, with 802.
He wasn't too shabby as a punter, either.
"My game really evolved in Winnipeg and I was able to make an impact there," he said. "I am so thankful and blessed to have that go that way. The win and having the parade in Winnipeg, a great parade, too – that was amazing."
Medlock is happy to see his old team keeping up the winning tradition, which he helped kick-start.
He was just as happy to hear he'll be linked to it forever.
"I was just one part of that team," he said. "Just thankful and blessed to get that call."
pfriesen@postmedia.com
Twitter: @friesensunmedia