EDITORIAL: Let the truth speak for itself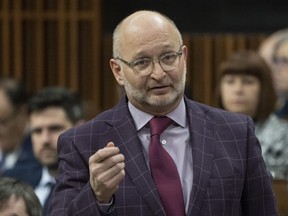 Article content
The knee-jerk response of federal Justice Minister David Lametti to demands that those who question accepted wisdom about unmarked graves at former residential school sites be charged under the Criminal Code is disturbing.
Article content
We apologize, but this video has failed to load.
EDITORIAL: Let the truth speak for itself
Back to video
Federally appointed Independent Special Interlocutor Kimberly Murray released her interim report recently into how the federal government can search for unmarked graves of missing Indigenous children. The report stated there are people who deny the existence of graves.
Article content
Saskatchewan Cree lawyer Eleanore Sunchild says that denial should be criminalized.
"If you deny that happened — if you deny the whole residential school system and its impact on Indigenous people and the trauma that was created from those schools and the deaths — then, of course, it should be seen as hate speech."
Lametti indicated he's open to such a law.
We have nothing but respect and concern for communities dealing with the aftermath of residential school abuse, but criminalizing a full and frank discussion about what happened is not the solution. It is the path to conspiracy theories.
Article content
Sunchild and others compare it to Holocaust denial, which is a false analogy. Since the end of the Second World War almost 80 years ago, many people have sought to deny that six million Jews died at the hands of the Nazis – even after all the evidence produced at the war crimes trials at Nuremberg.
RECOMMENDED VIDEO
In 1996, historian Deborah Lipstadt was sued for libel by Holocaust denier David Irving. In successfully fighting his lawsuit, Lipstadt proved incontrovertibly that the Holocaust happened. The trial judge commented, "History has had its day in court and scored a crushing victory."
We have a justice system so facts can be tested in a court of civil law. Irving was later imprisoned for three years in Austria for speeches wherein he said there were no gas chambers at Auschwitz.
Despite their history, Lipstadt spoke out against his imprisonment: "I am uncomfortable with imprisoning people for speech. Let him go and let him fade from everyone's radar screens," she said. "Generally, I don't think Holocaust denial should be a crime. I am a free speech person. I am against censorship."
Sunlight is a great sanitizer.
The way to fight residential school denial is not with gag orders. It is by allowing the unvarnished truth to come out.