DEAR ABBY: MIL's restaurant hysterics make dining out miserable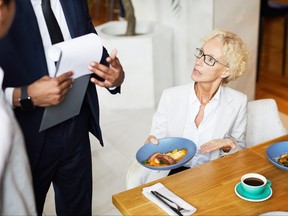 Reviews and recommendations are unbiased and products are independently selected. Postmedia may earn an affiliate commission from purchases made through links on this page.
Article content
DEAR ABBY: I would like your help on how to deal with a problem I am having with my mother-in-law. The in-laws call at least once a week wanting us to go out to dinner with them. It's embarrassing because my mother-in-law is always horrible to the waiter. She complains about everything and usually causes some sort of a scene.
Article content
We apologize, but this video has failed to load.
DEAR ABBY: MIL's restaurant hysterics make dining out miserable
Back to video
My husband and I are at a loss about how to tell her this is why we no longer want to go out with them. We have tried making excuses and inviting them to our house instead, but she refuses to take no for an answer and demands we join them at a restaurant. If we don't, she gets mad and has hurt feelings. Help! — EATING ME UP IN ALABAMA
Article content
DEAR EATING ME UP: Your mother-in-law's behaviour is indeed an embarrassment, and your feelings are justified. Your husband should talk frankly with both his parents about why neither of you are comfortable eating out with them. If it isn't addressed, it won't be fixed.
RECOMMENDED VIDEO
DEAR ABBY: My ex-husband's stepbrother died unexpectedly, and the ex wants to take our son to the funeral. The ex and his stepbrother were not close. The ex has not been active in our son's life. He moved to another state two years ago, and it took repeated explanations for my son to understand who the person was who died.
Article content
My son told me he doesn't know his dad's family, so it doesn't bother him they aren't a part of his life. He hasn't asked to attend the funeral or asked anything else about his uncle. I don't think he should go.
Should I let my ex take him so our son can see how many people have chosen not to be a part of his life, or should I refuse? — NOT IN HIS LIFE
DEAR NOT IN HIS LIFE: If you can resist mentioning your opinion to your son, he may not view meeting his paternal relatives the same way you do. Of one thing I am sure: He should not feel forced to go if he doesn't want to. I think the answer to your question depends on how old your son is and whether your ex is responsible enough to be trusted with the boy. Only you can answer that.
DEAR ABBY: My mother is 74 and has been widowed for 10 years. During this time, my sister and I have tried to convince her to downsize from her very large, hard-to-maintain house to something more manageable. She is always overwhelmed. Friends and other family members offer to help her with it, and she acts like it's more than she can manage.
Article content
We are now watching her becoming overwhelmed by everything in life, not just the house. We are also wondering if some dementia is starting to set in. My sister and I want her to see a counsellor and talk with her doctor, but she's too overwhelmed to do this either. Can we make an appointment with a counsellor or minister for her? — TRYING TO HELP
DEAR TRYING TO HELP: Make an appointment for her with her doctor, provide the transportation and stay with her if possible. The doctor should be informed about what's going on so your mother can be evaluated. Changes like the ones you describe could be symptoms of an underlying illness as well as dementia, and the sooner you can find out, the better for your mother.
— Dear Abby is written by Abigail Van Buren, also known as Jeanne Phillips, and was founded by her mother, Pauline Phillips. Contact Dear Abby at DearAbby.com or P.O. Box 69440, Los Angeles, CA 90069.