Come 'Play' in Iceland, a destination like no other
New low-cost airline makes Land of Fire and Ice easier than ever to visit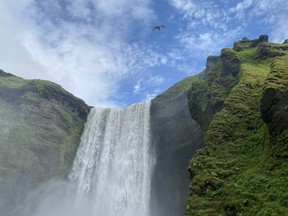 Reviews and recommendations are unbiased and products are independently selected. Postmedia may earn an affiliate commission from purchases made through links on this page.
Article content
Among the dark wonder of the lava fields was a curious blast of colour.
Article content
We apologize, but this video has failed to load.
Come 'Play' in Iceland, a destination like no other
Back to video
Purplish pointy plants were everywhere as we rolled along Iceland's Route 41 and then Route 1 — better known as the Ring Road.
Article content
Lupins. Or lupines. Or Lupinus nootkatensis.
No need to get too technical here. Just know, whatever they're called, they're in extreme abundance and in full bloom in the land of Fire and Ice in late June.
"Each plant spreads one million seeds every year," our tour guide told us as we travelled along the county's majestic south coast.
Much like everything in life, the plant brought here from British Columbia and Alaska nearly 80 years ago is controversial and forever debated for its pros and cons.
Lupins were introduced to halt soil erosion but have spread like hot lava and are taking over other species.
Article content
Whatever side of the flower fence you stand on, it's difficult to deny their almost lavender-like beauty, which only adds to what is already an impossibly breathtaking landscape filled with waterfalls, active volcanoes, northern lights, geysers, glaciers, black sand beaches and hot springs.
Iceland is an island shaped by layers of time. It's a place that reveals itself as it pleases. It's a place formed by extreme and unexpected events. As such, there's a fascinating resiliency that permeates the air here off the North Atlantic coast.
As the Icelandic people know best, nature cannot be tamed. (The lupins are surely here to stay.)
It can, however, be celebrated.
The summer solstice was observed two days before our arrival as part of Play airline's debut flight from Canada to Iceland. Icelanders gathered late at night to watch the sun dip below the horizon and rise back up again.
Article content
Our North American circadian rhythms were firmly out of whack as we tried to physically adjust to our few days based in Reykjavik living in the Land of the Midnight Sun, but no matter.
Just like the lupins, the never-ending sun was another curious blast of colour as we roamed the vibrant city centre in the wee hours on our final night, trying to bottle up whatever of this place we could.

PLAY TIME STARTS NOW
Play airline's debut flight out of Canada went wheels up from the airstrip at Hamilton's John C. Munro airport at 7:06 p.m. on Thursday, June 22, 2023, but a touchdown of sorts happened about 30 minutes prior when Hamilton dignitaries presented Play CEO Birgir Jónsson a custom Hamilton Tiger-Cats jersey.
Flight No. OG 202 to Keflavik airport was smooth and on time, as was the return departure four days later, arriving some 40 minutes ahead of schedule.
Article content
Industry experts and travellers alike will be watching closely to see if the momentum can be sustained.
"We've been working towards this for many months," Jónsson said. "Before the actual work started, we did a lot of analysis and it's very clear that Hamilton airport here has a lot of potential. And I suspect that we are not the last international low-cost airline that will show up here."
Recommended from Editorial
Iceland-based Play is a relative newcomer — it turned two years old in June — and has some of the same executives that ran Icelandic budget airline WOW Air, which abruptly shut down in 2019.
Article content
While Play will try to learn from mistakes made at WOW, the business model is similar to its predecessor. No-frills services mean no in-flight magazines or wifi and entertainment. Customers pay additional fees for checked luggage, food and seat selection.
Play started offering flights between Iceland and Europe in 2021, added U.S. destinations last year, and the Canadian service will offer flights to more than two dozen destinations in Europe, including Paris, London, Berlin, Copenhagen, Dublin, Brussels and Stockholm.
All flights stop at Keflavik International Airport in Reykjavik. From there, passengers can continue to their final destination in as few as 90 minutes later, or stay in Iceland for up to seven days before continuing to other destinations or returning to Canada.
Article content
Play has grown from about 50 employees to more than 500 in two years.

"This is the year we will become profitable," Jónsson said, adding it was the "right opportunity and the right point in time to introduce an important market like Hamilton."
Play joins a growing list of discount airlines in Canada including Swoop (recently merged into WestJet along with Sunwing), Flair Airlines, Lynx Air and Jetlines.
With its tagline "pay less and play more," Play customers are encouraged to put any flight savings toward "the meaningful experiences, dining and excursions that make a trip memorable."
It's the first low-cost airline offering service from Canada to Europe.
On board, the seats are not unlike that of a small-budget carrier (basic armrests and a small fold-out tray.) We didn't find our journey any less comfortable than with any flights offered by the larger companies.
Article content
Customers can place their phones or tablets on a built-in stand on the front of each seat while food and beverage items including Icelandic items are available for purchase.
Play's colour scheme is predominantly red with some white.
Play Airlines will operate daily flights from Hamilton airport (referred to as "Toronto Hamilton" on its site) to Iceland and Europe year-round.

ICELAND IN (ABOUT) 48 HOURS
Is a weekend getaway in Iceland possible for Canadians, specifically those living in Ontario? The short answer is yes. If you're willing to spend a bit of money (a lower-cost airline such as Play will run you in the neighbourhood of a $900 round trip, including all taxes, a personal item, and one checked bag as well as seat selection and priority boarding), a Thursday-to-Sunday trip is very doable.
Article content
Here are some options for once you land:
PRETTY FLY
It seems counterintuitive to go flying as soon as you get off a plane, and even stranger to see the spectacular landscapes of Iceland from inside a building, but that's what we did. We did not regret it.
Newly opened FlyOver Iceland uses hi-tech equipment to give visitors the feeling of flight as they hang suspended, feet dangling, before a 20-metre spherical screen while the film takes you on a thrilling journey across Iceland. Special effects such as wind and mist combine with the motion of the ride to provide a truly excellent flight simulation.
The visuals are spectacular and while it's not the same as the real thing, it's the perfect alternative for those who don't have the thousands of dollars required to rent private helicopter tours, and it's equally ideal for those on a tight timeline.
Article content
The experience includes some storytelling and other visuals and lasts 35 minutes.
The best part? It's available rain or shine which comes in handy in Iceland, where you never do know what you're going to get weather-wise. As the locals love to say, "If you don't like the weather, wait a minute."

GET IN SOME HOT WATER
Cool your jets at Sky Lagoon, the latest geothermal hot springs in Iceland.
Located only a 13-minute drive from the city centre in Reykjavik, the oceanside natural lagoon is "where the sea meets the sky."
Look out at the North Atlantic Ocean with a drink in hand before embarking on what's called 'The Ritual,' a seven-step immersive experience that begins with time spent in the lagoon followed by the cold plunge, sauna, cold mist, sky body scrub, steam and shower sessions.
Article content
The sauna is built in the spirit of a traditional Icelandic turf house and features incredible views through what Sky Lagoon refers to as the "largest single window in Iceland." For 10 minutes or so, I truly felt as though I was living inside the picture of something straight out of a magazine.
Because it's so new, the facilities were practically sparkling and a highlight is that bathers have access to a private shower.

Sky Lagoon, like FlyOver Iceland, is owned by Pursuit, which runs several attractions in western Canada.
With this being my second visit to Iceland in less than 12 months, I couldn't return home without also booking myself a trip to the Blue Lagoon. One of the 25 wonders of the world, the lagoon's geothermal water is enriched with silica and minerals and is a can't-miss experience in Iceland, where bathing culture is celebrated similarly to how sauna culture is prevalent in Finland.
Article content

WATER AND ICE, AND SAND THAT'S NICE
No trip to Iceland is complete without experiencing at least a few waterfalls, which are admittedly difficult to miss once you leave the city centre of the capital, Reykjavik.
There are said to be upwards of 9,000 waterfalls in Iceland. We visited two located on the south coast — Seljalandsfoss and Skogafoss — the former accessible from behind and the latter seemingly drawn by a child with its perfect shape.
Visit Reynisfjara, the famous black sand beach with its basalt columns and sea stacks.

The more adventurous will want to hike the Solheimajokull glacier — a 700-year-old glacier tongue — alongside a certified guide.
It can all be done in a day through the Arctic Adventures tour company which provides all transportation and includes views of the Hekla volcano and Eyjafjallajokull glacier.
Article content
Dress in layers and bring warm clothes.

DOG DAYS
Iceland is hot dog crazy. It's the unofficial national dish here and is referred to as pylsur or pulsar. The "everything" version is the most popular, dressed in the order of bun, ketchup, remoulade, crispy fried onions, raw onions, dog and a sweet brown mustard called Pylsusinnep.
Bæjarins Beztu translates to "the bezt in town!" and having finally given this Reykjavik staple a try, we'll agree. Bill Clinton famously visited this stand, where the locals flock to after a night of drinking for a hot dog and chocolate milk (interesting post-drinking decision there, if we might say so ourselves).
While fermented shark, Brennivin schnapps and lamb are must-tries when in Iceland, it says here that traditional Icelandic licorice covered in milk chocolate is truly worth stocking up on. (I might be staring at a bag of it intended for family members yet virtually empty as of this writing.)

WHERE WE STAYED
WHERE WE ATE
TOURS AND TRANSFERS