Michael Taube: The media is desperate for Pierre Poilievre to fail
Pundits keep misrepresenting how Conservatives fared in recent byelections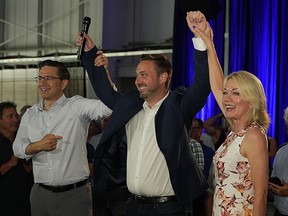 Article content
Four federal byelections were held on June 19. Two seats had previously been held by the Liberals. The other two had been held by the Conservatives. Guess what happened on election day? Each party held its two respective seats.
Article content
We apologize, but this video has failed to load.
Michael Taube: The media is desperate for Pierre Poilievre to fail
Back to video
The byelections therefore went exactly as they should. The results went exactly as anyone with a minimal understanding of Canadian politics would expect them to go. Yet some pundits actually claimed Conservative Leader Pierre Poilievre was the big loser that evening.
Article content
"While the Conservatives held both ridings, it did not make the kind of dent in Liberal support it will need if it is to win the next general election. Nor did its campaign project the image of a government-ready party," Toronto Star columnist Chantal Hebert wrote on June 25. "Unless he veers from his current course — and he still has enough time to do so — Poilievre is on the path to becoming a liability for his party."
Meanwhile, Globe and Mail columnist Andrew Coyne wrote on June 20, "Remember, these are byelections: a chance to give the government a kick for its perceived failings without actually having to replace it. And still the Conservatives could not attract disaffected Liberal voters their way."
Article content
In Coyne's estimation, "Poilievre's hard-edged approach isn't working, where it needs to work. It may serve to inflate Conservative margins in seats they already hold. But it is costing them crucial votes in winnable swing ridings."
With all due respect, this is a preposterous analysis of the results. To paraphrase the far-left academic Noam Chomsky, it's manufactured dissent in its ugliest form.
Let's take a deep dive into what really happened on June 19. The Liberals held two ridings, Notre-Dame-de-Grâce-Westmount and Winnipeg South Centre.
The former, which was chiselled out of two older ridings in 2015, had been comfortably held by longtime MP Marc Garneau. He won over 50 per cent of the vote in three straight elections. Anna Gainey, former Liberal party president and daughter of Montreal Canadiens legend Bob Gainey, won the riding with 50.87 per cent of the vote. No surprise whatsoever.
Article content
The latter has been in Liberal hands almost constantly since 1988, represented by MPs like Lloyd Axworthy and Anita Neville. Conservative Joyce Bateman is the only politician to have interrupted this streak, beating Neville in a close race in 2011 (when former prime minister Stephen Harper won his only majority government) and losing decisively to Jim Carr in 2015. Carr won nearly 60 per cent of the vote in that election, and attained 45 per cent in 2019 and 2021.
Carr died in office on Dec. 12, 2022. His son, Ben Carr, won the nomination and earned 55.49 per cent of the vote. While some commentators claimed this riding was somehow in play, that's complete nonsense. A Liberal stronghold, combined with the son of the late MP running in his stead, is a losing proposition for opposition parties.
Article content
For their part, the Conservatives held two ridings, Portage—Lisgar and Oxford. The former has been controlled by right-of-centre parties since it was established in 1997. It was held by then-Reform MP Jake Hoeppner, then-Canadian Alliance/Conservative MP Brian Pallister and, most recently, Conservative MP Candice Bergen. The only close result happened in the riding's first contest when Hoeppner beat, as it happens, then-PC candidate Pallister.
This byelection had a small added attraction with People's Party of Canada Leader Maxime Bernier in the race. While some suggested the political vagabond could upset the apple cart, no such thing occurred. Conservative Branden Leslie, who was Bergen's former campaign manager, won with 64.95 per cent of the vote, and Bernier finished a distant second with 17.16 per cent.
Article content
Oxford, which had been in Conservative Dave MacKenzie's hands since 2004, produced the most interesting result of the night. Arpan Khanna, a lawyer who had run for the Conservatives in 2019 in Brampton North and moved to Woodstock, Ont., last year, defeated well-known local Liberal David Hilderley by 16,688-14,164 votes, or 42.92-36.43 per cent.
That still doesn't tell us anything about Poilievre's leadership. The nomination battle between Khanna and MacKenzie's daughter, Deborah Tait, was a heated affair. Allegations of the winner being parachuted into the riding, and questions related to the nomination process, left a bad taste in some people's mouths.
MacKenzie, in particular, was disappointed his daughter lost and displeased that Conservatives like former party leader Andrew Scheer waded in to endorse Khanna. So much so, he rejected his party's chosen candidate and endorsed Hilderley.
Article content
That's why it was a close vote. All politics is local, and Oxford's local scene nearly led to political upheaval. In the end, the Conservatives held the riding and the political temperature will hopefully return to normal before the next federal election.
How was this a bad showing for Poilievre, exactly? It wasn't. Yes, byelections occasionally turn out badly for the governing party. That's not always the case, however. It often depends on the riding's history, the candidates, the issues and existing controversies.
In spite of Prime Minister Justin Trudeau's dwindling popularity, he held two ridings he should have — and so did Poilievre. Suggesting otherwise is just another misrepresentation of the Conservative leader by a media machine that wants him to fail at every turn. What else is new?
National Post