Bombers defence a 'step behind,' not playing up to lofty standards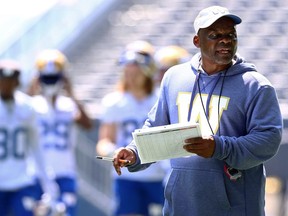 Article content
Something isn't right with the Winnipeg Blue Bombers defence, and Richie Hall is not happy about it.
Article content
We apologize, but this video has failed to load.
Bombers defence a 'step behind,' not playing up to lofty standards
Back to video
The long-time defensive co-ordinator was blunt in his assessment of the situation of the team's recent performance, not only in losing 30-6 to the B.C. Lions on home turf last Thursday, but also in the days since that game.
Article content
"When you look at the last couple of times we've been on the field, it wasn't very beneficial for us," Hall said Wednesday at IG Field. "I didn't think practice was very good (Tuesday) and the last time we played, we didn't play to our standards."
The Bombers, who won Grey Cups in 2019 and 2021 and went 15-3 in the regular season last year, have had the CFL's most prolific defence in recent years, so it has been a surprise to see teams have their way with Winnipeg early in the season. The Bombers have a 2-1 record, but they allowed well over 400 yards in one of their wins and they have given up an average of 29.3 points per game.
Article content
"We just always seemed like we were just a step behind," Hall said of the B.C. game.
"The game started at 7:30 and we might have showed up at 7:40. We were just always late. Then we got somewhat of a flow but didn't make a play. Even though we seemed like we might have a chance to get back into it, we never caught up."
The game started at 7:30 and we might have showed up at 7:40. We were just always late

Bombers defensive co-ordinator Richie Hall
The hope around the Bombers camp is that last week's game was just a bump in the road and things will be back to normal when the team plays against the Alouettes in Montreal on Saturday.
While the Bombers defence didn't allow a ton of yards against Vernon Adams and the Lions (305), they certainly did give up three touchdowns, and B.C. receivers were wide open far too often.

For a team that prides itself on communication and cohesiveness, the Bombers looked a bit discombobulated at times.
Article content
"It starts with myself," veteran safety Brandon Alexander said. "Better communication and being able to get guys lined up and make them feel comfortable. Right now, if I had to say, I'm not really making them feel comfortable back there. It's not a "me" thing, but I know I have to get better at my communication."
The Bombers secondary has mostly been a team strength since Alexander took over as the starting safety late in the 2019 season. His ability to direct traffic helped bring out the best in the defensive back group.
But there has been considerable change since that first season, and this year it has been like a revolving door because of injuries and ineffectiveness.
Cornerback Abu Daramy-Swaray made his first CFL start last week, and could start again this week at field-side corner because of an injury to Desmond Lawrence.
Article content
Demerio Houston is back at boundary corner after missing last week's game for the birth of twins, but even he was behind the injured Winston Rose on the original depth chart.
The two halfbacks — Evan Holm and Deatrick Nichols — have been excellent, but Holm is a starter for the first time this season and is still getting used to the role.
Things went badly enough for former all-star Alden Darby at dime back last week that he was replaced by Canadian Redha Kramdi, and it looks like Kramdi will start this week.
"We're good," Alexander said. "I'm not saying that to try to blow things over or anything like that. But we've got a good group of guys here and sometimes it happens that way. We have to be a little bit cleaner."
With Rose, Jamal Parker, Lawrence and Darby, who were all starters last season, potentially out of the lineup this week, it's going to be a challenge for the Bombers to improve in Montreal, but it's imperative that it happens.
Article content
"I think we need to play better," defensive backs coach Jordan Younger said.
"What I mean by that is more attention to detail, more understanding of what we're trying to get done. We've definitely made some plays. We haven't made enough."
The injury situation has made things difficult for the entire defence.
Linebacker Kyrie Wilson, defensive end Jackson Jeffcoat and DE Thiadric Hansen have been among those on the sidelines for most of, or all, of the season so far.
Jeffcoat could come off the six-game injured list and return this week — he has been a full participant in practice — but the Bombers have been without middle linebacker Adam Bighill, who has missed two practices for non-injury related personal reasons.
Article content
There's no question the Bombers secondary would benefit from better performances from the defensive line, and perhaps Jeffcoat can make a difference in that area.
"I don't look at it as our secondary, I look at it as our defence," Hall said. "Our defence has been high and low. We've played well at times and we haven't played well at times. To get to the standard we've set over the last couple years, you have to be consistent."

Eventually, more injured veterans will work their way back into the lineup, but Hall wanted nothing to do with the idea that injuries are to blame for recent results.
"When you look at the last number of years, it really didn't matter because someone always stepped up," Hall said.
"There have always been changes. We've always had people coming in and out and we've always been able to play at a consistent and high level. For whatever reason we didn't the other day. We weren't good enough and it showed."
Article content
As for those defensive backs, they are vowing to be better, in their communication, in their coverage, in their ability to finish plays.
"(Alexander) tries to put it all on himself because he's our leader on the back end," Holm said.  "He's always thinking he can do more and more. But I think all of us need to step up our communication so it's not so much on his shoulders.
"When one person makes a play, we've got to step up and make a second play. We know we can make plays and then we have to have each other's backs. A lot of times we were making easy things hard, for no reason."
Twitter.com/Ted_Wyman