Dakota Prukop's FOMO over playing with Bombers brought him back to team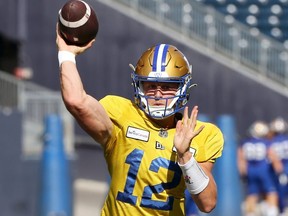 Article content
Dakota Prukop knew he wanted to return to the Winnipeg Blue Bombers the minute he tuned into the CFL team's first pre-season game at the end of May.
Article content
We apologize, but this video has failed to load.
Dakota Prukop's FOMO over playing with Bombers brought him back to team
Back to video
"I had this pit in my stomach," the 29-year-old quarterback said.
Article content
"It didn't feel right that I wasn't out there with them. I just had that itch."
At the time, Prukop was playing with the New Jersey Generals of the USFL. He signed with the upstart league in the off-season and started four of his team's 10 games.
However, he kept it in the back of his mind that he might have a chance to end up back in Winnipeg, where played a role in the Bombers putting up a club-record 15-3 mark in 2022.
"I wanted to keep all my options open," Prukop said. "I had such a great experience here last year that I'd be lying if I said it never crossed my mind. It worked out and I'm extremely happy to be here."
With his USFL season over, Prukop asked for his release from the Generals last week and it was granted. The Bombers signed him on Tuesday morning and he was out there for practice at IG Field on Tuesday.
Article content
Last season, when he served as the third-string, short-yardage quarterback behind Zach Collaros and Dru Brown, Prukop had six rushing touchdowns, 181 passing yards and 209 rushing yards.
In New Jersey, he amassed 312 passing yards on 31 completions, threw three touchdown passes and rushed for 97 yards. The Generals went 3-7 and finished last in the North Division.
Now he joins a Bombers team that is 2-1 and coming off a humbling 30-6 home-field loss to the B.C. Lions. Prukop is expected to play when the Bombers face the Alouettes in Montreal on Saturday.
"We're fired up about it," Collaros said Tuesday. "Definitely excited to have him back. He's a great friend, a great person, a great teammate and a great football player, so any time you can add someone into the mix, it helps."
Article content
Prukop will take over the short-yardage duties from Brown, who has been handling them since early in the first game of the season. Prukop was also used last year on designed quarterback running plays and surprised defences by throwing unexpectedly.
The Bombers hoped rookie Tyrrell Pigrome would fill a similar role this season, but he struggled in short yardage and only took two snaps before giving way to Brown.
Pigrome was released on Tuesday.
"(Prukop) worked it with his team and once he became available we made a move to get a guy back here who has a lot of experience with us," Bombers head coach Mike O'Shea said.
"He helped us win a lot of football games, so it seemed like a good move."
Prukop has already dressed for 10 pro football games this season and he could see action in 17 or 18 more with the Bombers.
Article content
"I just did 10," he said. "I didn't start and play in all of them, so I'm fresh and healthy."
Would there be any concern from the Bombers end about a player playing too much football?
"Not Dakota," O'Shea said. "He's in great shape, loves the game, thrives in this environment, so no concerns."
Recommended from Editorial
It was an interesting career move by Prukop to take a shot at the USFL, and even more intriguing that he's going to play in both leagues in 2023.
Will this lead to some sort of trend, as players realize they can make playing in both leagues work and make more money?
"I would think not," Prukop said. "When you're an established guy, a veteran guy on a team, it's a lot to give up that opportunity. I don't think it will turn into a big trend.
Article content
"How lucky am I that I get to do that? I think other positions, I don't know how realistic that is, but for a quarterback, with a good offensive line, I think that's something that's a little more realistic."
Don't get Prukop wrong. He enjoyed playing in the USFL and believes the experience will make him a better quarterback, but there was always something calling him back to Winnipeg.
"When I was watching the first couple games this season, I was still in season, and I'm watching it, and I'm thinking 'How am I having this FOMO?'"
"What I missed most was this locker room."
Twitter.com/Ted_Wyman