BLUE REVIEW: Bombers got clobbered in all three phases by surging B.C. Lions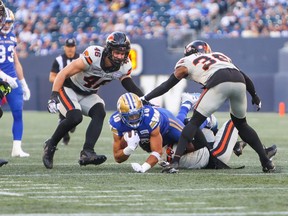 Article content
It had been a long time since we had seen the Winnipeg Blue Bombers put in an absolute stinker and get clobbered by a visitor to their own stadium.
Article content
We apologize, but this video has failed to load.
BLUE REVIEW: Bombers got clobbered in all three phases by surging B.C. Lions
Back to video
All that changed on Thursday night when the B.C. Lions pushed the Bombers around in all three phases of the game, from start to finish, and left IG Field with an impressive 30-6 victory, the first by any CFL West Division team since September of 2018.
Article content
As outstanding as the Lions were, the Bombers were brutal, and that's not something you've read very often in this space in the past five years.
There's no other way to put it: The Bombers got punched in the mouth all night long and didn't respond.
As a result, the Lions are now the top team in the West Division, with a 3-0 record. The Bombers aren't far behind at 2-1, but it was a real statement from a B.C. team that has an outstanding defence (21 points against in three games) and an efficient offence, led by quarterback Vernon Adams Jr.
Article content
It was a result that should give hope to the rest of the West Division. The Bombers can not only be beaten, they can be beaten handily, on their own home turf.
Of course, it is only one game. Lions coach Rick Campbell said himself, before the game, that a win in Winnipeg in late June would mean nothing more than just that.
It doesn't make the Lions Grey Cup favourites and it doesn't mean the Bombers are ready to give up their three-season run of West Division titles.
It was just surprising.
The Bombers were humming in the first two games of the season — particularly on offence — scoring 87 total points in wins over the Hamilton Tiger-Cats and Saskatchewan Roughriders.
And then … thud. A measly six points (two field goal) on 243 yards of total offence.
Article content
Meanwhile, the defence was suspect for the second straight week, failing to generate turnovers and not making life difficult enough for Adams, who completed 20-of-29 passes for 237 yards and two touchdowns.
The Bombers have allowed 29.3 points per game this season, a number that doesn't scream "Grey Cup contender."
With all that said, here's a look at the positives, negatives and conclusions we can draw from Thursday's game.

THE POSITIVES
— You have to look pretty hard to find any from that game. One that stands out is the continued stellar play of second-year halfback Evan Holm, who was credited with two pass knockdowns, but seemed to have tight coverage on his receivers all night long. Holm was the Bombers' best player in training camp and he has carried it into the regular season.
Article content
— The Bombers kicking game seems to be stabilized with the additions of place-kicker Sergio Castillo and punter Jamieson Sheahan. Castillo is seven-for-seven on field goal tries this season — he went two-for-two Thursday night to account for all of the Bombers' points — and he seems to be providing the kind of consistency the team lacked last year with Marc Liegghio. Sheahan, for a punter, is almost entertaining to watch. He has several different kicking styles, with "the Aussie" being his favourite so far. The end-over-end kicks, patterned after Australian Rules Football, seem to work very well for directional kicking. He did a very good job on Thursday of pinning the Lions in their own zone, not that it helped much.
Article content
THE NEGATIVES
— For quarterback Zach Collaros, his 100th career start in the CFL was one of his worst. Collaros managed just 15 completions on 25 pass attempts (60%) for 191 yards and threw an interception. He was sacked seven times, so he clearly didn't have much time to throw, but Collaros expects much more of himself and the 34-year-old two-time CFL most outstanding player will surely be motivated to perform better as the season goes along.
— Stanley Bryant has won the CFL's most outstanding offensive lineman award an unprecedented four times, including in the past two seasons. The 37-year-old left tackle didn't look anything like an award-winner on Thursday, getting beaten repeatedly, as Collaros was sacked seven times and pressured many more times on the night. Bryant wasn't alone. The whole offensive line had a rough night, but Mathieu Betts, who had three sacks for 28 yards and a pass knockdown, got by Bryant too easily a few times, and that's not something anyone in the CFL is accustomed to seeing.
Article content
— Rookie defensive back Abu Daramy-Swaray had an inauspicious start to his CFL career. On the very first pass thrown his way, he took a pass interference penalty that cost the Bombers 36 yards. On a couple of other occasions, Lions receivers were left wide open when there appeared to be confusion in the Bombers' defensive backfield. The Bombers have to be hopeful that either Demerio Houston (non-football related absence) or Winston Rose (injury) will be back at boundary corner soon. It's too important a position to have an untested rookie in the role. The Bombers defensive backs, as a whole, weren't that terrible. You wouldn't normally complain about an opposing quarterback throwing for 237 yards — but two pass interference penalties, totalling 53 yards, certainly didn't help.
Article content
— The Bombers took 11 penalties — 10 were accepted — for 104 yards, something you rarely see from a Mike O'Shea-coached team. The lack of discipline was uncharacteristic as the Bombers have averaged just four penalties per game in recent years. There were costly pass-interference calls, roughing-the-passer calls, offside on short-yardage defence and even a procedure call for having no end. The Bombers are normally on point on those kinds of details and, like so much about Thursday's game, it was strange to see them so undisciplined.
— It wasn't exactly a horrible performance by the Bombers' defence. They only allowed 305 yards of total yards and that's a number you'd normally be happy with. However, Adams wasn't under pressure enough and he moved the ball at will on a couple of drives, most notably a back-breaker for a touchdown in the final minute of the first half. Star defensive end Willie Jefferson did not record a stat in the game and it's pretty clear the Bombers are a little thin on the defensive line with Jackson Jeffcoat and Thiadric Hansen injured.
Article content

THE CONCLUSIONS
Is this just a blip, or is it a sign that the Bombers are more susceptible than they have been in past years?
Was it simply a case of getting beaten by a team that was much better on one particular night?
Those questions should be answered in the coming weeks as the Bombers look to rebound and get back to the top of the division.
It will clearly not be easy. The Lions' defence is doing very special things, allowing just 21 points in three games and averaging only 214.3 yards against per game.
B.C. dominated Winnipeg without its best receiver (Dominique Rhymes) in the lineup and they'll face the Bombers two more times this season — once at B.C. Place and once more at IG Field in six weeks.
Of course, the Bombers were missing, arguably, their best receiver as well, as Kenny Lawler remains out while he deals with an immigration issue.
Article content
It's conceivable they'll have him back in time for a July 1 game at Montreal, but they've already proven they can put up offensive numbers without him.
Recommended from Editorial
It should be an interesting practice week.
The Bombers are not used to getting spanked and you'd expect they'll be an ornery bunch leading up to the Montreal game.
It has been a long time since this team lost two games in a row.
But, as we saw Thursday, anything's possible.