Western premiers disappointed by delay to federal bail reform on repeat offenders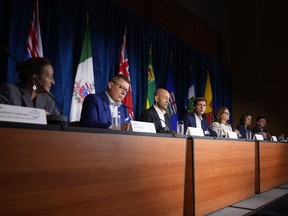 Article content
WHISTLER, B.C. — Premiers from Western Canada said Tuesday they are "extremely disappointed" in the federal government for not passing reforms to the bail system to target repeat offenders before Parliament rose last week for the summer.
Article content
We apologize, but this video has failed to load.
Western premiers disappointed by delay to federal bail reform on repeat offenders
Back to video
Speaking at the conclusion of the western premiers' conference in Whistler, B.C., host Premier David Eby urged the federal government to prioritize passing the bill that would amend the Criminal Code as soon as possible.
Article content
Eby said all 13 Canadian premiers agreed on the urgent need for bail reform at a meeting of the Council of the Federation earlier this year, and the western premiers made a point of highlighting their disappointment at the lack of movement in the communique released after Tuesday's conference.
"We all struggled to understand the decision that was made in the federal Parliament not to call the bail reform bill," Eby said. "All of the premiers across Canada agreed that this was a priority. The police have called on the federal government to make this change."
Article content
Manitoba Premier Heather Stefanson echoed Eby's sentiments, saying that premiers felt there was momentum coming out of the Council of the Federation meeting that appears to have stagnated in federal Parliament.
"We were happy when they listened to us and brought forward a bill," Stefanson said of the initial parliamentary response. "But of course they have not followed through on that. And of course, if those changes are not made for bail reform, obviously it has a significant impact in our communities … We need to make sure those violent offenders do not continue to get out on bail."
Leaders from British Columbia, Alberta, Saskatchewan, Manitoba, Yukon, Nunavut and the Northwest Territories attended the daylong conference.
Article content
The premiers said while they come from different political parties and geographical regions, they were able to find a united front on issues such as the need for more federal aid on strategic infrastructure, immigration, energy security, labour mobility and climate action.
Eby and Alberta Premier Danielle Smith were both critical of the federal government's funding to address these issues in Western Canada, with the provinces and the territories lacking per capita "equivalency" in monetary support for these programs.
Eby said B.C. has clearly not received its fair share of funding, and he has repeatedly raised the issue with his federal counterparts.
"It doesn't mean other provinces need to be funded less," he said. "It means that the funding that's available from the federal government needs to be distributed fairly."
Article content
Smith said it is also important that the federal funding comes to each province and territory with "no strings attached" so that each jurisdiction can identify its own projects that cater to specific local needs.
The premiers said they all feel the federal government has room to improve when it comes to support for Western Canada.
Eby characterized the meeting as fruitful, with the premiers discussing how the provinces and territories can work together on identifying, planning and permitting key corridors for transportation, utilities, telecommunications and trade so that a more efficient system can be created.
The conference will meet again in 2024 with Yukon being confirmed as the next host.
This report by The Canadian Press was first published June 27, 2023.