A year's worth of work awaits Jets over next two days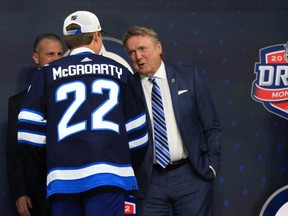 Article content
It's a wholesale effort that dates back to last August, not too far removed from another effort of the same kind, dating back to the same time the year previous.
Article content
We apologize, but this video has failed to load.
A year's worth of work awaits Jets over next two days
Back to video
And over the next two days, the culmination of a lot of work will come to the forefront when the Winnipeg Jets sit down at their draft table in Nashville.
Article content
"We're eager to get this going and get it over with and then three weeks later, go to the (Hlinka Gretzky Cup) and start all over," Jets director of scouting Mark Hillier told reporters in Music City on the eve of the first round of the NHL Draft.
The annual under-18 tournament (formerly known as the Ivan Hlinka Memorial Tournament) features teams from countries across the world, populated mostly by the following year's draft class.
The Jets, and many other NHL teams, begin their scouting efforts there, and eleven months later, they come prepared to the draft with a list of names they hope to see still available when it's their turn on the draft clock.
Article content
Hillier and his scouting department's work over the past 11 months will help the Jets make the 18th selection during Wednesday's first round, followed by a pick in the third round, two picks in the fifth and one final selection in the seventh during Rounds 2-7 on Thursday.
"You always hope to get a player higher on your list," Hillier said, especially of the 18th pick. "If we can get a player in that hopefully nine, 10 or 11 range in our list, we'd be super excited. I hope that falls out."
That hope in recent years has become a reality for the Jets, with names like Cole Perfetti, Chaz Lucius and Brad Lambert available for selection when the club felt they wouldn't be.
"You always hope to hit a home run," he said. "If you can get a guy that high (on your list), you think you're hitting a home run."
Article content
The 2023 prospect crop is deep, especially in the first round or so.
And there will be key elements Hillier and the rest of Winnipeg's hockey brass want in their first-round selection.
"We want good character guys, we want guys that can skate and think the game well," he said. "All those ingredients we hope we get in a player in our first pick.
"And you hope you get some of those things as you move on later in the draft. You're not going to get them all, or they would have been drafted earlier, but you hope to get some of those elements."
The Jets have dipped heavily into the U.S. National Team Development Program in the past, and may look to do so again this year.
But Hillier isn't ruling out a player from the WHL, a league that some scouts believe has had the better of the pandemic years thanks, in large part, to a 24-game truncated schedule in the bubble back in 2020-21.
Article content
Hillier agreed it's a strong year for WHL content in the draft, and said there are a few players that could be right in the team's "wheelhouse" in the 18-hole.
"In a perfect world, we'd like to draft lots of Canadians, lots of western players, lots of kids from Winnipeg, but it doesn't always fall that way," he said. "We try to get the best player every pick. If it was a tiebreaker, where you could use it as a tiebreaker, let's take the Western Canadian kid, the Manitoba kid, whatever. But my job is to find the best hockey players. That's what I try to do.
"We used to think we had the Finnish slant. Then it was the American slant, then the Swedish slant. There's been no slant. That's just the way it falls. We try to get the best player, and we'll continue that way."
sbilleck@postmedia.com
Twitter: @scottbilleck
Check out our sports section for the latest news and analysis. Care for a wager? Head to our sports betting section for news and odds.