Chicago Blackhawks GM Kyle Davidson goes unrecognized by interviewer on street at NHL draft
GM was asked if he thought the league had rigged the draft for the Blackhawks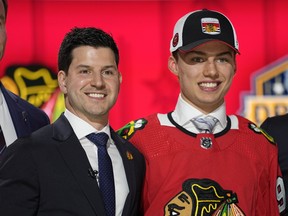 Article content
Sometimes, a man on the street is a bit more than just a man on the street.
We apologize, but this video has failed to load.
Chicago Blackhawks GM Kyle Davidson goes unrecognized by interviewer on street at NHL draft
Back to video
While interviewing passersby ahead of the NHL draft on Wednesday in Nashville, a local radio host unknowingly was talking to a man who knew a bit more about hockey than he led on.
Article content
It turns out that "Kyle from Chicago" was no average Blackhawks fan in town for the draft – it was the team's general manager, Kyle Davidson.
PenaltyBoxRadio posted the clip on Twitter of their street interview with Davidson ahead of the NHL's annual selection show, in which the Blackhawks held the first-overall pick.
Article content
In the interview, Davidson was asked how he would rank his hockey knowledge on a scale of 1-10, to which he replied: "Probably like a four … fan of the sport, I don't know, some people say I don't know that much."
He was then asked how many NHL players he could name in 20 seconds. After starting with legends Wayne Gretzky and Mario Lemieux, he started rattling off players from Chicago's Cup-winning teams of the 2010s – impressing the host with names like Bryan Bickell, Dave Bolland and Michal Rozsival.
But the chef's kiss on the entire interview was when the Chicago GM was asked if he thought the league had rigged the draft for the Blackhawks to get the first pick and select Connor Bedard.
Davidson looked straight into the camera and said, "No."
When the host noted that his response was "pretty confident," Davidson slyly looked into the camera again to say, "I am very confident."