Canadians to save at the pump this long weekend compared to a year ago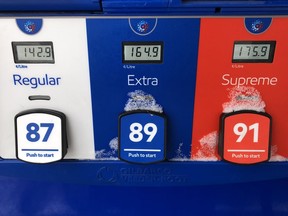 Article content
CALGARY — Canadians heading out on the road for the July 1 long weekend will find filling up at the pumps to be much less shock-inducing than last year at this time.
Article content
We apologize, but this video has failed to load.
Canadians to save at the pump this long weekend compared to a year ago
Back to video
The national average gasoline price heading into this Canada Day long weekend is hovering around $1.59 per litre, according to price-tracking website GasBuddy.com.
Article content
That's more than a 22 per cent decrease from June 28, 2022, when gas prices in Canada topped $2.05 per litre.
Crude oil prices have fallen significantly since the first half of last year, in part due to global concerns about slowing economic growth.
The average price for the crude oil benchmark West Texas Intermediate for the first six months of 2023 is around $75 per barrel, down from over $100 per barrel over the same period in 2022.
Lower fuel prices at the pump was the number one factor behind consumer price inflation cooling to 3.4 per cent in May, the slowest pace of inflation Canada has seen in nearly two years.