LILLEY: Trudeau blasts opposition while calling for buy-in on inquiry
PM says opposition parties created toxic environment, calls for co-operation.
Get the latest from Brian Lilley straight to your inbox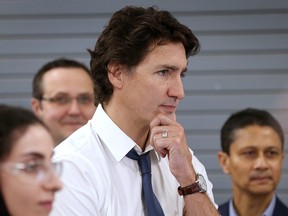 Article content
It's a step in the right direction by Prime Minister Justin Trudeau; too bad he has to blame others for forcing him to do the right thing.
Article content
We apologize, but this video has failed to load.
LILLEY: Trudeau blasts opposition while calling for buy-in on inquiry
Back to video
Trudeau told reporters on Wednesday that he wants full buy-in from the opposition parties before calling a public inquiry, on any other process, to look into China's interference in Canada.
Article content
While he's making it sound like this is his noble idea, it's been a demand of the opposition for months now.
"As we put forward proposals to the other parties on how we can move forward to restore Canadians' confidence in our abilities to fight foreign interference, we will ensure before we launch any next process, that there is full buy-in by the other parties on how it will be done, and who will do it," Trudeau said Wednesday in Mississauga.
Note that Trudeau didn't commit to a public inquiry — he's still talking about a "next process" — but the discussions happening in Ottawa, with good faith from all parties, are said to be heading in the direction of a full inquiry. Which is why it was strange for Trudeau to not only waiver on the issue of an inquiry but attack the opposition parties as talks are ongoing.
Article content
Trudeau said he wanted buy-in from the other parties to ensure whatever comes next doesn't get bogged down in toxic bickering.
Recommended video
"We saw the excessive partisanship and toxicity that was aimed at and rendered it impossible for our esteemed former governor general David Johnson to actually be able to continue his work," Trudeau said.
Here's a hint for the PM: If he had listened to the opposition parties before appointing Johnston to be his special rapporteur, there would have been no toxic environment. Before Trudeau made that appointment, the Conservatives, NDP and Bloc had all called for an inquiry headed up by someone all parties could agree on.
Instead of going that route, Trudeau ignored the other parties and appointed a man that the other three parties rightly felt was too close to Trudeau and his party. It's like he forgot he leads a minority government and that he needs to work cooperatively with the opposition.
Article content
Now that he's been reminded of that inconvenient fact, he's taken a different tone.
"We are going to be making sure that we have consensus around the path forward, around the framework, around the individual or individuals we will put in charge of the next steps, before we actually announce anything," Trudeau said.
One stumbling block that hopefully will be overcome is the Trudeau government's desire for the opposition parties to put forward a list of names before the government announces next steps. Pierre Poilievre and the Conservatives in particular are opposed to offering a list of names until an inquiry is actually announced.
Poilievre and those around him are concerned that if they provide a list of names of people they would support to investigate China's interference before an inquiry is called, that the government would simply choose one of those names to become the next special rapporteur and bypass a full inquiry.
Article content
That's a minor detail in the grand scheme of things, and one that the parties should be able to iron out in their discussions.
Recommended from Editorial
The talks among the parties will also need to iron out the scope of any inquiry, with the NDP and Liberals having indicated they want any investigation to look at interference by a variety of countries, not just China, and over a wider time frame than the last few years.
Those are terms Poilievre has said he would support if it results in an inquiry being called.
Let's hope all sides come to an agreement in the near future and get to the truth about China's attacks on our democracy.